This is a page from the book of hours that Fouquet made for Simon de Varie. De Varie was an important public servant at the French treasury. The opposite page shows him kneeling in prayer.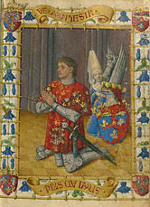 In the 17th century the original 15th century manuscript was split into three parts. Two volumes ended up in the Dutch Royal Library. The third volume was considered lost until it was re-discovered in 1984. It is now in the Getty Museum in Los Angeles.
Fouquet used tempera and gold paint on parchment for this illumination.
This version of Madonna with Child is much more modest than the one Fouquet made a few years earlier: the Melun Madonna.