This spectacular panel is part of a diptych known as the Melun diptych, after the French city where it used to be kept. The other panel shows Étienne Chevalier with Saint Stephen and is in Berlin.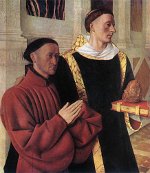 Chevalier was treasurer to king Charles VII of France. Fouquet worked at the court of the king. The diptych was made to be displayed on Chevalier's grave.
It appears that the atmosphere at the court must have entered Fouquet's painting. Mary is dressed in a fashionable wardrobe and looks very aristocratic. Many think that the model was Agnes Sorel, the king's mistress.
The red and blue cherubs block the view on the background. Their presence does give the work something sacred, contrary to Mary's bare chest. The fine details in the throne and in the jewels are noteworthy. They suggest that Fouquet was influenced by Flemish painters, who were well known for their skills in that field.
The prominent Dutch historian Johan Huizinga wrote about this panel in his Waning of the Middle Ages. He considered it a fine example of decadence in the late Middle Ages, when religious feelings came close to erotic ones. A few quotes:
"No instance of this dangerous association of religious with amatory sentiments could be more striking than the Madonna ascribed to Foucquet, [..]"
"The bizarre inscrutable expression of the Madonna's face, the red and blue cherubim surrounding her, all contribute to give this painting an air of decadent impiety in spite of the stalwart figure of the donor."
"There is a flavour of blasphemous boldness about the whole, unsurpassed by any artist of the Renaissance."