Jean Fouquet
ca. 1420 - 1477/81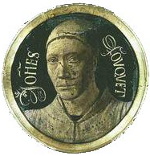 French painter, born in Tours. Not much is known of his life. He worked at the court of the French king Charles VII.
In the 1470's he made a journey to Italy, where he got acquainted to the Tuscan style of painting. Back home he combined it with that of the 'Flemish primitives', the early Netherlandish school.
Fouquet painted panels and made many book illuminations.
The portrait is a self-portrait he made in 1450. It is said to be one of the first self-portraits in Western art.