Stories in the bible have always inspired artists. In this section you will find a selection of such biblical art, including many highlights from the history of art.
Some old masters are featured with a short biography. We also provide information about special topics and cities that have been of great importance to the history of art.
Search the titles and descriptions of paintings.
All museums in a clickable map.
Here's a timeline listing the artists.
Art Quiz: a fun way to explore the works of art.
In the glossary you will find art terminology explained.
Art of the Day
A fresh work of art every day. We're practically everywhere: on Twitter, Facebook, iGoogle, iPhone/iPod/iPad, RSS. Read more...
Gortzius Geldorp
John the Evangelist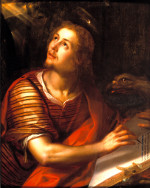 scripture link: John 1:1
[work by Gortzius Geldorp]