The three Kings in the foreground all have their traditional characteristics: the black Caspar is depicted with incense, the middle-aged Melchior with gold, and old Balthazar with myrrh.
Remarkable about this depiction of the story of the three wise men is the added figure of a man who, with his company, seems to be hiding in the barn. He is half-naked, has a wounded leg and wears a strange hat made of twigs. He probably personifies evil; waiting to strike now the Savior has been born.
The city in the background is Bethlehem.
The kneeling figures on the outer panels are most likely the pair who commissioned the triptych. St Peter and St Agnes (Inez) accompany them. In the left panel Joseph can be seen heating diapers by a fire.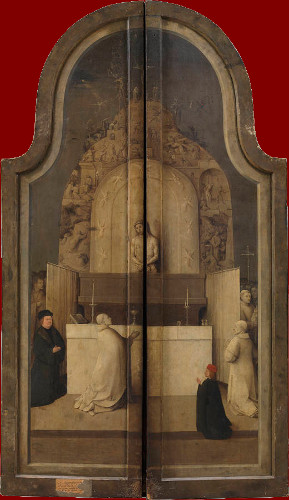 On the reverse sides of the outer panels St Gregory's Mass is depicted. It is a medieval subject: Christ appears to the praying pope Gregory I (c. 540-604) to take away his doubt.