Central panel of a triptych by Rogier van der Weyden. The wings are in a museum in Turin.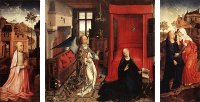 The triptych was made in Van der Weyden's workshop but probably not by himself. Experts point at the lack of Rogier's usual rigour and at the inferior brushwork in the angel's golden cope.
As Jesus was born on December 25th, this scene must have taken place around March 25th. There is no fire in the fireplace and the windows are open. The lilies in the foreground are symbol of the virgin's purity.