Orazio Borgianni
ca. 1575 - 1616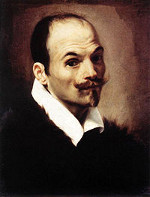 Italian painter and etcher, born in Rome. He received his first lessons in painting from his brother Giulio. At the end of the 16th century he traveled to Spain, where he made acquaintances in the higher circles.
In 1606 he was back in Rome, where he received commissions from churches and from Spanish diplomats.
Borgianni's style shows influences from Caravaggio and from several other Italian schools. For example, his use of color sometimes resembles Titian's.
Sources mention a marriage to a woman in Spain. Orazio Borgianni died in 1616.
The portrait is a self-portrait dating from 1615.