Titian
1487/90 - 1576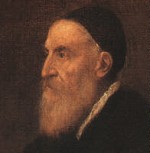 Real name: Tiziano Vecellio.
Venetian painter, draughtsman and designer of woodcuts. Born in the hamlet of Pieve di Cadore in Veneto. Some sources date his birth in 1477. Titian works in the style of the Renaissance, inspired by religion and mythology.
Paints many portraits as well. The one shown here is a self-portrait form 1570 (Prado, Madrid). Titian is often considered the protagonist of Michelangelo, whose paintings testify to his art as a draughtsman, while Titian liked to work with colorite.