Caravaggio
1573 - 1610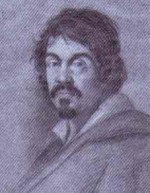 Michelangelo Merisi da Caravaggio, Italian painter with great influence both in Italy and abroad.
Caravaggio is particularly renowned for his use of chiaroscuro, a technique that uses light and dark to achieve a 3-D effect. Caravaggio breaks away from the tradition of symmetrical figures and detailed backgrounds. His figures do retain a traditional monumentality. His later work is less plastic.
Caravaggio takes his name from the village where he was born. He receives his first training in Milan, specializing in still-lives. Around 1592 he takes to Rome, the spiritual capital of the Italian peninsula, switching his subject matter to street-life and young boys.
In 1595 Caravaggio's talent catches the eye of cardinal Francesco Del Monte, who subsequently becomes his first patron. Caravaggio's three paintings on the life of St Matthew cause a sensation: never before has a saint, let alone an apostle, been shown like this. (calling, inspiration, martyrdom) After this succès fou, Caravaggio takes all his subjects from the New Testament.
Caravaggio's life is as turbulent as his personality. He has many run-ins with the law and is arrested on several occasions. In 1606 a bet over a game of tennis leads to an argument, at which point Caravaggio draws his sword and kills his opponent. He flees to Naples, intending to take the long way home to Rome - where friends are lobbying for his rehabilitation - via Malta and Sicily. On his wanderings he produces several masterpieces, such as The Beheading of St John the Baptist, which he creates in Malta. He dies before reaching Rome, probably of pneumonia, in Porto Ercole. Several days after his death word arrives of papal absolution.
Caravaggio's influence is widespread: outside Italy he inspires painters as diverse as Georges de La Tour and members of the Utrecht School, e.g. Gerrit van Honthorst – artists who in their turn are later to influence Rembrandt.