Govert Flinck
1615 - 1660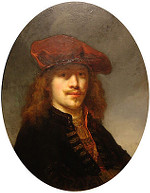 North-Netherlandish painter, born in Kleve. He was a student of Rembrandt's for a year and a half.
Flinck is mostly known for three large civic guard paintings (Amsterdam Rijksmuseum). He was responsible for a generous part of the decorations of the town hall on Dam square. He was a celebrated portrait painter in his time.
The portrait is a self-portrait made around 1640.