Giovanni Battista Tiepolo
1696 - 1770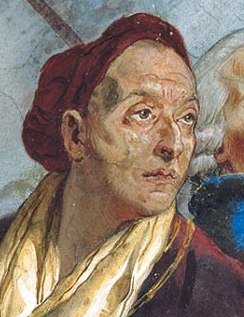 Giambattista Tiepolo. Italian painter, born in Venice in 1696. Dies in Madrid in 1770.
Tiepolo is a student of Gregorio Lazzarini's. In 1719 he joins the Venetian guild of painters. He soon turns away from the darker hues of the Baroque opting for sunny colorful tableaux instead. His first success testifies to his new style: a series of frescoes on biblical scenes for the episcopal palace in Udine in 1726 show that Tiepolo has joined the tradition of the Venetian Renaissance and follows in the footsteps of such inspirators as Paolo Veronese.
After Udine, Tiepolo starts to turn out a stream of happy, fantastical canvasses and frescoes, often on religious themes, or portraits. Typical of his work is its fresh style and such tricks as painted frames.
The frescoes Tiepolo paints for the Würzburg residence of the Arch Bishop are considered his pièce the resistance and the highlight of the Rococo period, initiated by him, among others. With a crew of co-workers Tiepolo sets out for the German city in 1750 to create monumental murals on non-religious themes on the residence walls and ceilings. The fresco in the hall alone measures 677 m2 and is the largest in Europe.
Back in Italy Tiepolo dedicates himself to commissions by local dignitaries. In 1762 he and his crew, including his son Giandomenico (1727-1804), leave for Madrid to paint frescoes for the Royal Palace. But in Madrid neo-classicism has taken over from the now unfashionable Rococo style and Tiepolo falls into oblivion.
The self-portrait is a detail of a fresco he made in Würzburg.
work by Giovanni Battista Tiepolo