Gerard van Honthorst
1590 - 1656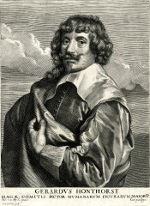 Gerard (or Gerrit) van Honthorst was a Netherlandish painter, born in Utrecht. He studied with his father and with Abraham Bloemaert.
Around 1610 he travelled to Italy, probably together with Bloemaert. In 1620 he was back in Utrecht, where he married Sophia Coopmans. He was one of the founders of the Utrecht painter's guild. In 1628 he spent a few months in London, commissioned by Charles I to decorate the Whitehall Banqueting House.
During his stay in Italy Van Honthorst came under the influence of Caravaggio. He copied his technique and spread it in the Netherlands. His school is called the Utrecht caravaggists. In Italy Van Honthorst was known as Gherardo delle Notti, "Gerard of the nights".
He was court painter at the court of the Dutch stadtholder William II. Between 1637 and 1651 he therefore worked both in Utrecht and in The Hague.
Gerard van Honthorst died on April 27, 1656.
The portrait is print made by Paulus Pontius after a painting by Anthony van Dyck.