Abraham Bloemaert
1566 - 1651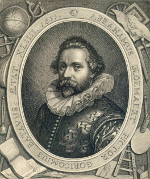 Netherlandish painter, draughtsman and printmaker, born in Gorinchem. At the age of ten Bloemaert moved to Utrecht, where he lived for the rest of his life except for a few of years in Amsterdam and Paris.
His long life spans the Eighty Years' War of the Netherlands against the Spanish occupation. The northern provinces of the Netherlands switched to protestantism, but Bloemaert remained catholic. Most of his paintings were made for catholic institutions: legitimate churches in the south, clandestine ones in the north.
Bloemaert made roughly 200 paintings, 1700 drawings and 600 prints. His paintings are mostly history paintings, often with biblical subjects.
Many other artists studied with Bloemaert, amongst them the Utrecht caravaggists Hendrick ten Brugghen en Gerard van Honthorst. He ran a school for draughtsmen. In 1650 he published Tekenboek, a book with prints of his drawings, made by his son Frederick. It was a book with examples that was used by students for several centuries.
Bloemaert's style was at first mannerist, with styled, idealistic landscapes and figures. Feeding the Multitude (1593) is an example. Around 1620 he was influenced by former students returning from Italy where they had seen the works of Caravaggio. Bloemaert copied his chiaroscuro in works such as The Flute Player (1621). A few years on, his work became more classicist, as in The Adoration of the Kings (1624).
He married twice. His first wife died of the plague. With his second wife, Gerarda de Roij, he got fourteen children. She died in 1649; Abraham died in 1651 at the age of 84.
The portrait is a print from 1611 made after a painting by Paulus Moreelse from 1610.