Gerard Seghers
1591 - 1651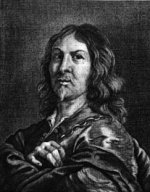 Flemish painter, was born and died in Antwerp. He was only 17 when he already became a master in the Antwerp painters guild. In his twenties he travelled in Italy, where he picked up Caravaggio's style. Back home in Flanders he became one of few Flemish caravaggists. A typical work from that period is The Denial of St. Peter (c. 1625).
By 1627 he adapted the style of his great contemporary PP Rubens. After Rubens' death Seghers took over his position of most popular and richest artist.
Most of Seghers' works are history paintings and portraits. He had a talent for depicting emotions.
Gerard Seghers was married with Catharina Wouters. They had eleven children. The portrait by Cornelis de Bie is from 1661.