Ferdinand Bol
1616 - 1680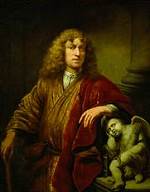 North-Netherlandish painter and pupil of Rembrandt's around 1635.
Stylewise Bol sets out to follow in his tutor's footsteps, but later his style becomes more baroque. His production is quite varied and includes paintings on biblical themes. Bol is most famous for his portrait of Elisabeth Bas, on display at the Amsterdam Rijksmuseum. Bol also makes several etchings.
Born in Dordrecht, Bol spent most of his life in Amsterdam, where he dies in 1680. This here is a self-portrait from approx 1667.