Diego Rodríguez da Silva y Velázquez
1599 - 1660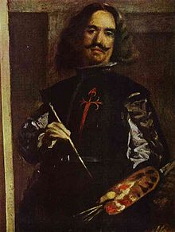 Spanish painter, born in Seville. He was a member of the lower gentry, and court painter to the court of king Philip IV (reg. 1621-1665).
In Seville he quickly built a good reputation. When the position of court painter became vacant at Philip's court in Madrid, Velázquez was recommended. He made a test portrait of the king and was then appointed. In 1624 he and his family moved to Madrid, paid for by the king.
Velázquez was influenced by the works of Titian and Rubens. He actually met Rubens in 1628. Velázquez made two long journeys to Italy: from 1629 until 1631 and from 1648 to 1651.
His style is described as baroque. He was a sharp observer, which can be seen in the subtle lines in the faces on his portraits.
Velázquez made numerous portraits, many of them of the Spanish royal family. He also made several history paintings.
In 1618 he married Juana Pacheco, the daughter of his teacher Francisco Pacheco. They had two daughters; one of them died as an infant. Diego Velázquez died on 6 August 1660 after a short sickbed, in Madrid. His wife died four days after him.
The self-portrait is a detail from his most famous work, Las Meninas (1656).
work by Diego Rodríguez da Silva y Velázquez