Van Limburg brothers
1375 - 1416
(Pol: approx 1375 - 1416, Herman: approx 1380 - approx 1416, Jan (or Johan): approx 1385 - approx 1416). In French: Paul, Herman and Jannequin, or Paul, Hermann and Jean de Limbourg. Miniaturists from the Low Countries, born in Nijmegen as sons of Arnold van Limburg.
Their uncle Jean Malouel helps them to obtain a position at the court of Philip II the Bold, Duke of Burgundy, but it is in the service of another duke they will reach great fame. The rich and influential Jean de Berry hired the brothers in 1404, and it was for him they make their most famous works, the lively decorated Books of Hours.
The best known of these illuminated manuscripts are Les Très Riches Heures du duc de Berry (1413-16, not completed, kept in Chantilly, France), and Les Belles Heures de Jean de France, duc de Berry (c. 1409), which is in the collection of the Metropolitan Museum of Art in New York.
Both books and especially the Très Riches Heures are widely considered as highlights of International Gothic painting, because of the incredible detail and the rich warmth of the colours.
In many ways, the Limburg Brothers determine our view of medieval daily life. Their work had much influence on later Netherlandish painters, such as Van Eyck, Van der Weyden and Van der Goes.
Their death, and that of Jean de Berry, coincided with the plague attack of 1416.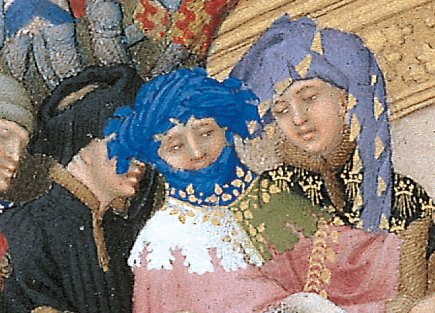 Part of a page from Les Très Riches Heures with self-portraits of the brothers.