Rembrandt Harmensz. van Rijn
1606 - 1669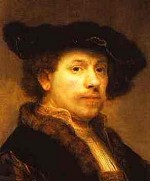 North-Netherlandish painter, draftsman and etcher. Most sources claim he was born on 15 July 1606, although there is written evidence in which he himself mentions 1607 as his year of birth.
Born in Leiden into a middle class family, Rembrandt becomes a pupil of the painter Jacob van Swanenburgh. In 1624, he studies in Amsterdam in the studio of Pieter Lastman, who will greatly influence his artistic development. Some say it is Lastman who illustrates to Rembrandt Caravaggio's use of chiaroscuro – the application of light and darkness to suggest depth.
After returning to Leiden, Rembrandt sets up shop with his friend Jan Lievens. In 1631 he moves to Amsterdam once again. His talent to read faces wins him many portrait assignments. He marries Saskia van Uylenburgh in 1634; her father, a prominent art dealer, secures him even more work.
In 1639 Rembrandt and Saskia move to the Breestraat, a main street bordering on the Jewish neighborhood, where the couple sets up household in the present Rembrandt House Museum. Their new address facilitates Rembrandt's study of Jewish faces, making his biblical work even more striking. All in all, Rembrandt creates over 300 works on biblical subjects; most of them drawings and etchings. More on Rembrandt's biblical work.
As in everything he does Rembrandt's biblical work reaches far beyond and above everybody else's when it comes to capturing the decisive moment of a particular episode.
Rembrandt paintings initially are rather baroque but after around 1640 they became more austere. The famous Night Watch (1642) may be considered as one of his last truly baroque works. He now concentrates on showing depth of emotions in his figures. This change may be related to tragic events in his personal life: the early death of three of his children, and of Saskia in 1642.
Around 1647 Hendrickje Stoffels moves in with him. They cannot keep up the cost of living. The house is heavily mortgaged and Rembrandt spends large amounts on financing his vast collection of prints by other artists. In 1658 he is forced to move to a smaller house.
In his last years Rembrandt produces several masterpieces, such as David and Saul (1657) and The Jewish Bride (1665). Hendrickje dies in 1663, his son Titus in 1668. Rembrandt dies in 1669 in Amsterdam and is buried in the Westerkerk.
The portrait is part of a self-portrait made in 1640.
Rembrandt had many students. Among them were Ferdinand Bol, Gerard Dou, Carel Fabritius, Govert Flinck, Arent (Aert) de Gelder and Nicolaes Maes.
work by Rembrandt Harmensz. van Rijn