Paolo Veronese
1528 - 1588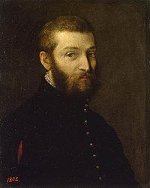 Italian painter, one of the masters of the late Renaissance.
Paolo was born in Verona - hence his popular name Veronese. His real name was either Cagliari or Caliari. After several years of study in Verona he moved to Mantua in 1548, and then on to Venice in 1553. He would remain based in Venice for the rest of his life.
After completing the fresco's in the Palazzo Ducale (1553) he soon became a celebrated and famous artist. People were impressed by the combination of classical grandeur and bright colours in his work. Another highlight was the result of his collaboration with the architect Andrea Palladio. Veronese made the fresco's in Palladio's Villa Barbora in Maser (c. 1560).
After the trouble with church authorities about his Feast in the House of Levi, his religious works became less exuberant.
In 1565 Veronese married Elena Badile, daughter of his teacher in Verona. He died in Venice in 1588. The portrait is a self-portrait from c. 1560.