Jan de Bray
1627 - 1697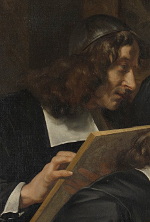 Painter and draughtsman from the northern Netherlands. He was born in Haarlem as a son of the painter and architect Salomon de Bray. His style belongs to the Dutch classicism.
De Bray, a catholic, spent most of his life in Haarlem, where he was a prominent painter and citizen. After the death of Frans Hals he succeeded him as the favourite portrait painter of the Haarlem upper class. He married three times; all his wives died within a few years. When Jan was declared bankrupt in 1689, he moved to Amsterdam where he died in 1697.
He portrayed himself in The governors of the guild of St. Luke of Haarlem (1675).