Frans Hals
1582 - 1666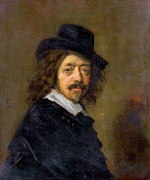 Netherlandish painter. Frans Hals was born in 1582 or 1583 in Antwerp. His father was a cloth merchant. In 1586 the family moved to the Northern Netherlands and settled in Haarlem, where Frans lived and worked for the rest of his life.
He took lessons from Karel van Mander until 1603. In 1610 he joined the guild of St Luke, which shows that by then he was an established artist. In 1616 he traveled to Antwerp to study the work of Rubens and Van Dyck.
Frans Hals served twelve years in the local militia, exceptionally long. His group portraits of militias belong to the highlights of his work.
He is best known for his portraits: vivid and full of colour, painted with a seemingly quick brush. Among the portrayed are a number of evangelists.
In 1610 he married Anneke Harmensdochter. She died soon after the birth of their third child, in 1615. Hals re-married two years later, with Lysbeth Reyniers. They had eight children.
He died in 1666 and was buried in St Bavo's church on the Grote Markt in Haarlem. The portrait is one of many copies of a lost self-portrait.