Salomon de Bray
1597 - 1664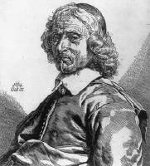 Dutch painter and architect. De Bray was born in Amsterdam but spent his active life in Haarlem. There he was an apprentice of Hendrick Goltzius en Cornelis van Haarlem. He probably did receive lessons in Amsterdam too, most notably from Pieter Lastman.
In 1630 he became a member of St Luke's guild, the painters guild. His work consists of historic pieces, portraits and landscapes. His most important work is probably his contribution to the decoration of a palace in The Hague, Huis ten Bosch. De Bray was a catholic, and is therefore thought to have made several altarpieces for underground catholic churches.
As an architect he was involved in several projects in Haarlem, among them the Zijlpoort city gate. He also worked on a castle in Warmond and an orphanage in Nijmegen. He adopted the style of Dutch classicism, also visible in his painting of the Jerusalem temple.
De Bray married Anna Westerbaen of The Hague in 1625. They had at least ten children. Some of them became painters too; Jan de Bray was one of them.
Salomon was buried in Haarlem's St Bavo church in 1664. He probably died in a plague epidemic, which also killed four of his children. Anna had died in 1663.