Jan Cornelisz Vermeyen
1500 - 1559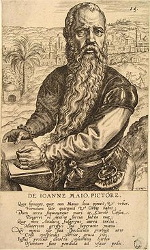 Painter from the northern Netherlands. Vermeyen was born around 1500 in Beverwijk. He studied painting under Jan Gossaert. In 1525 he was employed by Margaret of Austria, the governor of the Habsburg Netherlands with a court in Mechelen (Malines). After her death in 1530 Vermeyen became court painter of emperor Charles V. For him he designed a series of tapestries about Charles' Tunisian Conquest.
Vermeyen is also known as Jan Mayo and as Barbalonga; the latter name because of the length of his beard. He was befriended with Jan van Scorel. Vermeyen died in Brussels in 1559.
The portrait was made by Jan Wierix, after Vermeyen's death.
work by Jan Cornelisz Vermeyen