Jan van Scorel
1495 - 1562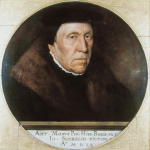 Dutch painter who introduced the Italian Renaissance in the Netherlands. Jan was born in the village Schoorl - hence his name. He was educated in Haarlem and Amsterdam. In 1519 he set out for a journey that would take him to the Holy Land, via Bavaria and Venice. On his way back from Jerusalem he visited Rome, where the Dutch pope Adrian VI appointed him keeper of the Belvedere collection.
Back in the Netherlands in 1524 he settled in Utrecht where he became an official of the catholic Church. He also started a workshop, where he introduced Raphael's modus operandi: he made the design and planned the execution, and his assistents would do the rest of the work. Most paintings made in the workshop were altarpieces and portraits.
On his journey Van Scorel had seen work of great masters such as Dürer (in Bavaria), Giorgione and Titian (in Venice), and Michelangelo and Raphael in Rome. Van Scorel can be credited with introducing their style in the Netherlands.
He died in 1562 in Utrecht. The portrait was painted in 1560 by Anthonis Mor van Dashorst.