Jacob van Oostsanen
1470 - 1533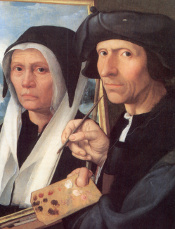 Painter and woodcutter from the Northern Netherlands. Jacob Cornelisz. van Oostsanen was born in Oostzaan, a village north of Amsterdam. He was probably trained as a painter in Haarlem.
From 1500 onwards, perhaps even earlier, Jacob lived in Amsterdam, where he bought a house in the Kalverstraat, now a busy shopping street. His first known painting dates from 1507, his last work was made in 1527.
Van Oostsanen's work bridges the gap between the Middle Ages and the Renaissance. He made many religious works and portraits, and run a productive workshop in the Kalverstraat. Jan van Scorel worked there for seven years.
He signed a number of his paintings with the letters I and A and a monogram with the letter W. The I is for Jacob, the A probably for Amsterdam, and the W for his family name, War.
Jacob died at the latest in 1533. The exact date is not known. There only is a document from October 1533 that states that his wife was a widow.
Several members of his family also were painters. One of his grandchildren was the painter and cartographer Cornelis Anthonisz. The portrait of Jacob painting his wife was made around 1550 by their son Dirk Jacobsz.