Il Tintoretto
1518 - 1594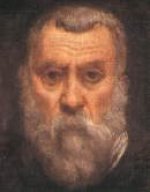 Real name: Jacopo Robusti – Il Tintoretto means 'the little painter guy'. Venetian painter and draughtsman, major representative of the school of mannerism, the transitional style between Renaissance and Baroque.
At first inspired by the work of Michelangelo, including the obligatory athletic figures, Tintoretti soon developed a style of his own, characterized by expressive use of colors and maximum use of contrast between dark and light. Later that chiaroscuro technique would be used heavily by Caravaggio.
Most productive between 1564 and his death in 1594. Part of his work from this period was executed by students in his studio under his supervision. Highlight of his work are the paintings in the Scuola di San Rocco in Venice (1564-87) with predominantly religious tableaux.
We don't know much of his life. He was very influential in his days, with followers in Venice. El Greco was one of his main follwers.