Hans Holbein the Younger
1497/8 - 1543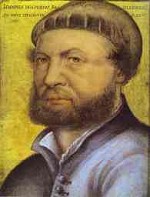 All-round German Renaissance artist. Painter, draughtsman and book illustrator. Designer of furniture and costumes. Creator of stained windows.
Son of the late-Gothic painter Hans Holbein the Elder. Born in Augsburg. With his older brother Ambrosius Hans settles in the trading town of Basel around 1514 making woodcuts for book illustrations, including those for Luther's bible translation. Holbein also paints portraits of prominent citizens. Around 1517 he travels to Italy. Back in Basel he paints the portraits of the humanists Amerbach and Erasmus and illustrates Erasmus' In Praise of Folly with pen drawings. In 1520 Holbein marries Elsbeth Schmid (the widow Binzenstock), who bears him four children.
During a trip to France in 1523 Holbein becomes acquainted with the work of Leonardo da Vinci. In Basel the freedom of the humanists, to whom Holbein feels committed, is increasingly curtailed by the Reformation. The market for religious art is shrinking and Holbein receives fewer commissions. With a letter of recommendation from Erasmus Holbein sets out for Britain in 1526. There he visits the humanist Thomas More, who, impressed with Holbein's work, proceeds to introduce him to the British court. After a short period in Basel where Holbein joins the Reformed faith, an iconoclast wages and a civil war breaks out, he returns to Britain in 1532 to settle there for good, working for, among other people, German Hanse traders and King Henry VIII as a court painter. His family stays behind in Basel. Holbein dies of the plague in London, in 1543.
Holbein's paintings are characterized by their bright and often cool colors and high measure of detail. Much of his hand, in particular his murals, has been lost, but owing to his practice of drawing pre-studies, much is known about Holbein's work. Many of his famed portraits survive with their realistic facial expressions typical of his work. Of the woodcuts designed by Holbein, the most well-known are probably the 41 that form the somewhat macabre series known as Dance of Death (published in 1538).
The portrait shown here is a self-portrait and may be viewed in the Uffizi in Florence.
work by Hans Holbein the Younger