Giotto
ca. 1267 - 1337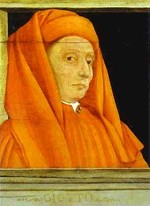 The Italian painter Giotto di Bondone was born in Vespignano near Florence, where he died. He is often appreciated for his innovations in painting. Painting had got into a rut, and Giotto created a first impetus for the Italian Renaissance.
Giotto imbued his figures with personality and tried to give expression to their faces and bearing, as is clearly visible from his major work: the frescoes in the Scrovegni Chapel in Padua, a.k.a. the Arena Chapel. Giotto may very well have been the first painter succeeding in creating unified compositions: there is unity between the figures and their surroundings and unity among the figures, interacting as they do through gesture and emotion.
Giotto's work is celebrated during his lifetime. Dante proclaims him larger than Cimabue, the Italian artist considered the most important until then, and probably Giotto's teacher.
Few works may be ascribed to him with absolute certainty: a series of frescoes in Padua, more frescoes and altarpieces in the Santa Croce in Florence and a painting of the Madonna, presently on display in the Uffizi in Florence. Most likely the famous fresco series on the life of Saint Francis in the St Francis of Assisi Church is by Giotto too.
Giotto is also involved in the design of buildings. He collaborates on the Dome of Florence and designs the accompanying bell tower.
The portrait here is a detail from The five Masters of the Florentine Renaissance – a work begun by Paolo Uccello.