Arent de Gelder
1645 - 1727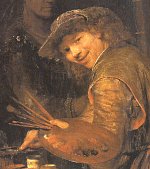 (also: Aert de Gelder) Dutch painter. Spends most of his life in his place of birth, Dordrecht. De Gelder is a pupil of both Samuel van Hoogstraten's and Rembrandt. Rembrandt's influence is noticeable in De Gelder's free brush stroke and use of chiaroscuro. Many of his drawings can hardly be distinguished from his great tutor. De Gelder however, preferred brighter colors.
De Gelder comes from a wealthy family and never has any financial worries. This enables him to hold on to his own style, even when Rembrandt's style had already become unpopular.
Perhaps his main work is his 22-piece passion series from 1715, now split between the Amsterdam Rijksmuseum and Schloss Johannisburg in Aschaffenburg.
The portrait on this page is a detail of De Gelder's Selfportrait as Zeuxis, dated 1685.