Artemisia Gentileschi 1593 – 1656
Bathing Bathsheba
oil on canvas (258 × 218 cm) — 1650

Neues Palais, Potsdam
Artemisia Gentileschi biography
This work is linked to 2 Samuel 11:2
Pretty Bathsheba has finished her bath. She is fixing her hair, using the mirror held by a servant. Other servants walk around.
Perhaps she has already received King David's message. David has been watching her from his balcony (top left) and asks her to pay him a visit.
Gentileschi depicted the subject several times.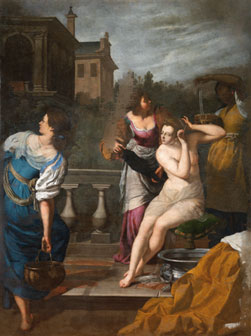 The Palazzo Pitti owns a copy (pictured above) almost identical to the Potsdam version. It was restored in 2008, revealing the original fresh colors.
Rate this work of art: