After his Resurrection on Easter Sunday Jesus spent time with his disciples. On the fortieth day he said farewell and ascended to heaven. According Mark he was given a seat to the right of God.
Before his departure he announced that the disciples would soon be visited by the Holy Spirit. He would give them strength to travel around the world and be witnesses unto Jesus. And so it happened, ten days later, on the day of Pentecost.
In this painting Rembrandt shows the cloud that is mentioned in Acts 1.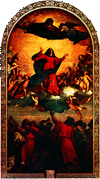 He also painted an unusual amount of cherubs - something one would sooner expect in a Titian painting. That is no coincidence: experts think Rembrandt may have borrowed the composition from a print of an Assumption of Mary (1516-18) by Titian.
X-ray photographs unveiled that in an early version God was shown in the top section of this work. Rembrandt later painted the ring of light and the barely visible white pigeon. Perhaps he made that modification because of the Calvinist idea of God as the "Unseeable".
This work is one of the five passion paintings by Rembrandt for the stadtholder Frederik Hendrik. The Raising of the Cross, the Descent from the Cross, the Entombment, the Resurrection, the Ascension.