Matthias Grünewald
ca. 1480 - 1528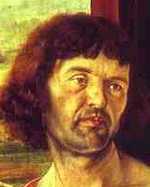 German painter, real name: Mathis Gothard, born in Würzburg, accidentally named Grünewald by a 17th century biographer.
Grünewald was awarded many substantial assignments. Between 1516 – 1525 he was employed by the most important elector of his day, cardinal Albrecht of Brandenburg.
Grünewald's style is best described as monumental and realistic with an arresting use of colour and light. Grünewald is likely to have been influenced by the Italian Renaissance but is generally considered as belonging to the late Gothic tradition.
His tour de force remains the Isenheimer Altar, a multitych with mainly biblical tableaux, currently on display in a museum in Colmar.
After Grünewald had been driven from the court by Albrecht, he supported himself for some time by building watermills and fountains. He died in Halle in 1528.
The portrait here shows St Sebastian and is part of the altar but often considered a self-portrait.