Lucas van Valckenborch
1535 - 1597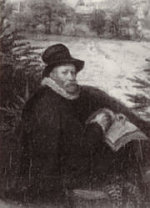 Painter from the Southern Netherlands. His exact date and place of birth are uncertain. 1530, 1535, Leuven (Louvain), Malines.
He probably received his first painting lessons in Malines. In 1566 he left for Aachen, which was at the time a safer place for protestants like Lucas. After a period in Liège he moved to Antwerp in 1576. Soon after that he entered into the service of archduke Matthias, in Brussels. In 1581 he followed Matthias to Linz, in Austria. From 1592 until his death in 1597 he lived in Frankfurt.
Van Valckenborch specialized in landscapes. He also must have enjoyed painting the Tower of Babel, given the many works he made on that subject. His style and choice of subjects show are very close to Pieter Bruegel the Elder's.
The portrait is selfportrait dated 1593.
work by Lucas van Valckenborch