Johannes Vermeer
1632 - 1675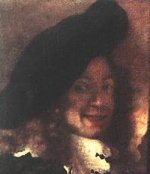 Also known as Johannes Vermeer from Delft, this North-Netherlandish painter is probably today's most acclaimed 17th century painter alongside Rembrandt.
Little is known about his life. In 1653 he marries a Catholic woman and is admitted to the painters guild. He sires 15 children and hardly ever leaves his Delft, where he probably runs an inn, not always making ends meet.
Three periods in his work may be distinguished. At first, Vermeer's canvasses are large and his subjects historical. One of the two works from that period is his only biblical work Christ in the house of Martha and Mary (ca. 1654).
Most of Vermeer's famous works date to the second period when he changed to medium sized paintings of domestic scenes; interiors with at most several figures, light coming in from the left, yellow and blue. The magisterial View on Delft (1659-60) dates from this period.
His later works are harsher and less natural, with more focus on decorative elements.