Jan Havicksz. Steen
ca. 1626 - 1679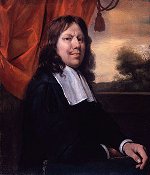 Painter from the Northern Netherlands. Steen was born in Leiden, where he was raised in a prosperous catholic family. He received his first painting lessons from the German Nicolaes Knupfer (1603–1660), who lived in Utrecht.
In 1648 became a student of the landscape painter Jan van Goyen, in The Hague. The next year Steen married Van Goyen's daughter Margriet. The couple had eight children.
After The Hague Steen worked and lived in several cities: Delft, Warmond, Haarlem, before returning to his native Leiden in 1670.
His most important subject was daily life. His vivid depiction of domestic scenes survives even today in the Dutch proverb a Jan Steen household, meaning a busy and somewhat messy scene. Steen's works are noted for their rich colors. Among his c. 800 works also are historic paintings, biblical work, still lifes, portraits and landscapes. Some 350 works have survived the ages.
Steen died in Leiden in 1679. The portrait is a selfportrait made in 1670.