Il Guercino
1591 - 1666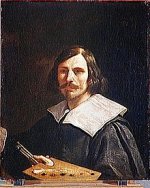 Italian Baroque painter. He was born in Cento, between Bologna and Ferrara, as Giovanni Francesco Barbieri. His nickname Guercino is Italian for 'the squinter'.
Barbieri was mostly an autodidact. In his twenties he moved to Bologna, where his work caught the eye of the local master Ludovico Carracci. Carracci introduced Barbieri to many people, which was the start of a highly productive career. Besides many drawings, about 100 altarpieces and 144 other paintings are known.
In Cento Barbieri founded a drawing academy, the Accademia del Nudo. He studied the reflection of sunlight on human skin. That was part of his quest to paint reality as naturalistic as possible.
His most praised work is a giant altarpiece on the burial of St Petronilla, now in the Vatican Museums.
The portrait is a self-portrait from c. 1635.