Hans Memling
ca. 1433 - 1494
German-Flemish artist, born in Seligenstadt (Hessen), died in Bruges. He is also known as Hans Memlinc.
All that is certain about his birth is that is must have been before 1440. He probably received his first painting lessons in Cologne, perhaps from Stefan Lochner. But there are no documents to confirm that assumption, which is based on stylistic similarities. Between 1455 and 1460 Memling most likely was an apprentice of Roger van der Weyden, in Brussels. Here too style is the main source, although the famous 16th century biographer Vasari also wrote that Memling was a student of Van der Weyden.
Some time before or after Van der Weyden's death in 1464, Memling moved to Bruges where he was registered as a citizen in 1465. He must have had a thriving workshop, as he became one of the richest inhabitants of the buzzing city. On an unknown date in the 1470's he married Tanne de Valkenare († 1486), with whom he had three children. They lived in a house that was large enough to also provide rooms to a number of students.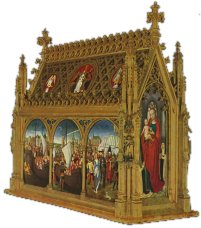 Memling received his first major assignment from the Bruges representant of the Florentine De' Medici family, Angelo Tani. This Last Judgement would end up in Poland.
Memling got most of his assignments from religious institutions, such as St. John's Hospital, and the upper middle class. Quite a number of Italians had Memling portray them.
Like Van der Weyden before him, Memling would often use a landscape as the background for his portraits. He would also let the spectator peek through windows and gates in order to create depth in his paintings. In many of his religious works, Memling made the characters form a triangle, another technique to suggest perspective.
He is often seen as one of the Flemish Primitives, the innovative style movement of Jan Van Eyck, Rogier Van der Weyden and Hugo Van der Goes. Many art historians find his work to be very little original, as it shows such strong resemblance to his predecessors' art.
In the years 1480 Bruges was to loose its central position in the trade in that part of Europe. For artists like Memling the economic decline meant less assignments. At the time of his death in 1494 Memling was still a celebrated artist, but he could not afford a grave inside the church. Today his art can be seen in major museums all over Europe.