Bartholomeus Breenbergh
1598 - 1657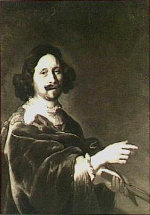 Dutch painter, draughtsman and etcher, best-known for his landscapes.
Breenbergh was born in Deventer. In 1619 he travelled to Rome, where he stayed for many years. In Rome he was influenced by the work of Paul Bril, Adam Elsheimer and Cornelis van Poelenburgh.
By 1633 he had settled in Amsterdam: that year he had the banns published for marrying Rebecca Schellingwouw. Breenbergh focused on Italianesque landscapes, often with classical ruins. His biblical subjects were also put in such landscapes.
After 1645 he added portraits to his work. He became less productive. He may have started working as a trader to make a living. Breenbergh died in Amsterdam in 1657. He was buried in the Oude Kerk (Old Church).
work by Bartholomeus Breenbergh