Antonio Bellucci
1654 - 1726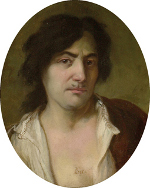 Italian painter, born and buried in Pieve di Soligo. He was trained in the Venetian style and worked on the intersection of baroque and rococo.
Bellucci spent most of his working life in Austria, Germany and England. Flamboyant Italian ceiling paintings were popular at the time in those northern countries. Bellucci was not the only Italian painter who travelled north: so did his contemporaries Tiepolo and Ricci.
Between 1695 and 1704 he lived mostly in Vienna. In 1705 he entered into the service of Johann Wilhelm, Elector of the Palatinate, in Düsseldorf. After Johann's death in 1716 Bellucci moved on to England, where he worked for James Brydges, 1st Duke of Chandos. In 1722 he returned to Italy.
The portrait is a self-portrait from c. 1684.