Bladelin Triptych
The Triptych with the Birth of Christ is a triptych made by Rogier van der Weyden. It is commonly known as the Bladelin triptych, or as the Middelburg triptych. It is in the collection of the Gemäldegalerie Alte Meister in Berlin.
In the central panel Mary and Joseph kneel before the newborn child. To the left emperor Augustus is told of the birth, to the right the three Magi are informed. The triptych thus contains the western world (of Augustus), the center (the Holy Land) and the easter world of the Magi.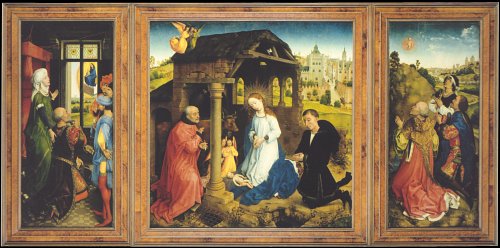 Peter Bladelin was a prominent citizen of Bruges. He was in the service of the powerful Philip the Good, duke of Burgundy.
Bladelin founded the town Middelburg, in Eastern Flanders. For the church in Middelburg he commissioned Rogier van der Weyden for this triptych. Bladelin himself is also shown, dressed in black in the center panel.
The outsides of the wings show an annunciation. It was probably added later, not by Rogier. One panel shows Mary, the other the archangel Gabriel. Those panels were painted in grisaille, so that from a distance they look like sculptures.
Related works of art: