William Blake
1757 - 1827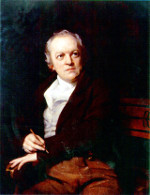 English writer, poet, painter and printmaker. William Blake was born in London in a lower middle class family. At the age of 14, Blake was apprenticed to the engraver James Basire. At 21 he was accepted into the Royal Academy.
In his youth Blake read many books, ranging from to the Bible to Shakespeare. He had a mystic streak, and had visions that he tried to draw. His literary and graphical work is full of dark symbolism.
The drawings that are considered his best are the illustrations for Edward Young's Night Thoughts (1797) and for his own collected poems Songs of Innocence and Experience (1789-1794).
It wasn't until the end of his life that Blake became appreciated by fellow artists. He owned a printshop and made some money as an illustrator. His series of engravings that illustrated the Book of Job (1826) were well received.
In 1782 he married Catherine Boucher. The couple did not have any children. William Blake died in 1827.
The portrait was made by Thomas Phillips in 1807.