Jan Brueghel the Elder
1568 - 1625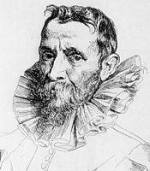 South-Netherlandish painter, son of Pieter Bruegel the Elder, nicknamed Fluwelen Brueghel, or Velvet Brueghel.
From 1589 until 1596 Jan works in Italy, where his landscapes, adorned with small figures, were greatly admired. In 1597 he settles in Antwerp. He paints mostly landscapes, with and without biblical subjects, and some animal and flower pieces.
In Antwerp he often worked together with Peter Paul Rubens. Brueghel died of cholera in 1625. His son Jan also became a painter.
work by Jan Brueghel the Elder