Jacques de Létin
1597 - 1661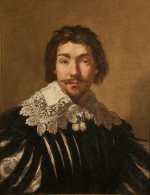 (also known as Jacques de Lestin) French painter, born and died in Troyes.
De Létin worked in Troyes all his life except for a period of 3 years when he worked for Simon Vouet in Rome. He is often considered a caravaggist – influenced as he is by Caravaggio's style. De Létin created portraits and paintings inspired by religion and mythology.
The portrait is a self-portrait made between 1630 and 1635.