Geertgen tot Sint Jans
ca. 1460/65 - ca. 1488/93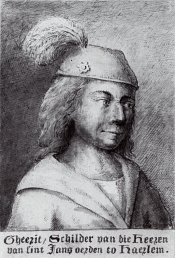 Dutch artist, perhaps the most important early Netherlandish painter. Little is known of his life. Only two paintings are attributed to him with certainty.
17th century print maker Jacob van Matham named Leiden as Geertgen's place of birth. Karel van Mander, a 17th century art historian, says that Geertgen was a pupil of Albert Ouwater's, said to be the founder of the Haarlem school of painting. Geertgen lived with and worked for the Haarlem Knights Hospitaller, or Knights of St John - hence his name (Sint Jan = St John).
In his work influences of Hugo van der Goes can be detected. Typical for Geertgen are the bold colors, oval shaped faces, the attention for landscapes and the rather simple geometrical forms.
Two panels, now in Vienna, are attributed to Geertgen with certainty. They were the two sides of a wing of a triptych on the crucifixion. Similarities in style are the foundation for linking around thirteen other paintings to Geertgen. Most likely Geertgen's are The raising of Lazarus, John the Baptist in the wilderness, Mary with child (Milan), Christ as Man of Sorrows, Nativity at night, and the Adoration of the Kings in Cleveland.
The portrait shown here was probably made in 17th century.
work by Geertgen tot Sint Jans