Fritz von Uhde
1848 - 1911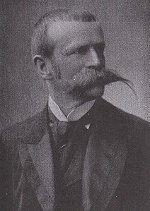 German painter and army officer. Von Uhde was born in Wolkenburg in the kingdom of Saxony. He grew up in a wealthy family where his artistic talents were developed. After a useless year at the Dresden art academy he joined the Saxon army, in 1867. As an officer he was engaged in several battles. A specialized battle painter taught him how to paint with oil paint.
Von Uhde left the army in 1878 and focused on painting. He studied the works of old masters in Munich and Paris. The Dutch old masters were his favorites, and in 1882 he made a journey to the Netherlands. After that trip he abandoned the dark chiaroscuro in favor of lighter colors.
Starting in 1884 Von Uhde also painted biblical subjects. 78 of his 285 works have religious subjects. His style was somewhere between naturalist and impressionist.
Von Uhde was married and had three daughters. He died in Munich in 1911.