El Greco
1541 - 1614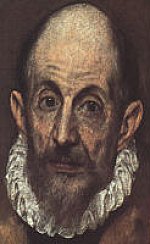 Domenikos Theotokopoulos, Spanish painter of Greek descent, born in Crete.
El Greco works in Venice for some time with Titian, were he is influenced by Il Tintoretto and Caravaggio. His early work clearly shows Italian and Byzantine influences. After he settles in Spain, around 1570, he develops a style of his own, probably best described as ascetic with unusual color combinations, stark contrasts and elongated figures.
He dies in Toledo in 1614, leaving a legacy that goes largely unappreciated until 19th century impressionists and expressionists recognize its true value.