Adriaen van Stalbemt
1580 - 1662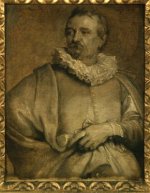 South-Netherlandish painter and etcher. Born in Antwerp, Van Stalbemt spends most of his life there, until his death in 1662. When in 1585 Antwerp falls to the Spanish, Van Stalbemt and his Protestant parents flee to Middelburg. Around 1609 Van Stalbemt returns to Antwerp to become a master.
Most of his works are landscapes and portraits. Van Stalbemt sometimes works with other artists such as Pieter Brueghel the Younger. In addition to creating paintings he makes etchings. Only a few of his works are dated.
The portrait on this page was made by Anthony Van Dyck.