A modest depiction of the crucifixion. Next to Jesus are two lamenting angels. Mary and John the Evangelist stand besides the cross. Under the cross is a scull, the traditional reference to the location: Golgotha, Place of the Scull.
In Rome Michelangelo was befriended to a group of intellectuals who sought a more spiritual approach of religion. That influence may be reflected in this painting without background: the background is irrelevant to the story, so why show it.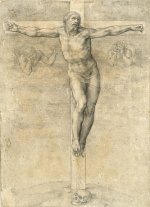 Around 1540 Michelangelo made a drawing with the Crucifixion for his friend Vittoria Colonna. It is similar to the painting, albeit that Mary and John are not shown. The drawing is in the British Museum in London.
The panel was not attributed to Michelangelo until 2010, together with a Pietà panel. There are indications that the master made it for his close friend Tommaso Cavalieri, a Roman nobleman.