One of few paintings on panel by Michelangelo. It is in a private collection in the USA. The English cardinal Reginald Pole (1500-1558) is said to have been the first owner.
Two angels take the dead son's body from his mother's lap to put it into a grave, it seems.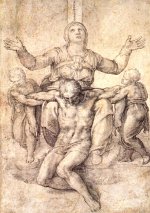 Around 1538 made a drawing with an almost identical composition for his friend Vittoria Colonna. The drawing is now in the Isabella Stewart Gardner Museum in Boston.
This panel and that with the Crucifixion were long thought to be painted by Marcello Venusti (1512/15-1579), one of Michelangelo's students. In 2010 art historians Antonio and Maria Forcellino presented research that attributed the panels to the master. They based their conclusions on technical research and on an analysis of Michelangelo's circle of friends in the 1530's and 1540's. Their ideas on religious sobriety may have inspired him to this sober composition.