Art of the Day
Of course you can visit this website whenever you want and browse around as much as you like. We also provide several ways for you to view a fresh work of art every day. Pick your favourite below.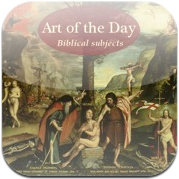 Art of the Day on your smartphone or tablet: available now in the iTunes store and on the Android Market. A free app.
A fresh work of art every day. Brief descriptions. Hi-res images on iPhone 4. Helpful reminder (iOS only). Share on Twitter or Facebook or via email. Internet connection required.
You may also be interested in the ArtBible app for smartphone and tablet, with the complete Bible and the works of art.
We've got a Facebook fan page, where we post the Art of the Day and news on site updates. Click the button below if you like that page (not this page).
Would you like a fresh picture every day on your iGoogle homepage? Add our widget. Click this button:

Or would you like to have a fresh work of art every day on your website? Example below. Instructions here (the gadget seems broken on that page, but it really does work).